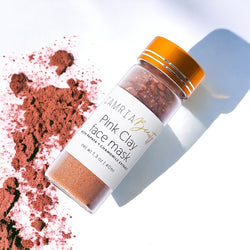 Our pink clay mask will provide a youthful appearance with ultimate hydration and skin firmness. Pink Clay is perfect for balancing the most stressed and sensitive of skins, it's hydrating properties help to refine delicate lines, moisturize, and improve the overall texture of the skin.
Cleanses, exfoliates and tones the skin in one use.
Benefits of papaya extract :
• help reduce acne
• lightly exfoliating which will remove dead skin cells
• skin lightening properties
Benefits of chamomile extract :
• anti-inflammatory
• reduction and healing of acne/eczema/dermatitis
• improves skins overall natural glow
• soothing and moisturizing
• anti-aging
Benefits of pink clay :
• Minimize blackheads
• Improves skin elasticity
• Gentle exfoliation
• Promotes radiant and younger looking skin
• Skin balancing
• Reduces irritation + inflammation
Always do a patch test first to make sure you are not allergic to this product.

As each person is unique, not all ingredients will work for everyone. Keep trying out different products to find what works for you.
Size : 40ml approx 10-12 applications 
Shelf Life : 12 months
 Ingredients
Pink clay, papaya extract, chamomile extract, sunflower oil, jojoba oil, Paraben & Phthalate Free fragrance oil
How to use
Directions :
Mix a tablespoon of clay with water, honey, yogurt or apple cider vinegar to form a paste and apply to clean skin. Let dry 15 to 20 minutes, rinse off with warm water, pat skin dry, repeat once a week if necessary. Remove it with warm water and a face cloth.
Use 2 times a week
Great product?
The product was delivered in a timely manner. I've already put it to use and it's comparable to products of a similar nature, in that its effects can been seen immediately.